Asset purchase programmes
Looking for information on the pandemic emergency purchase programme (PEPP)?
The ECB's Asset Purchase Programme (APP) is part of a package of non-standard monetary policy measures that also includes targeted longer-term refinancing operations, and which was initiated in mid-2014 to support the monetary policy transmission mechanism and provide the amount of policy accommodation needed to ensure price stability.
It consists of the
APP net purchases, by programme
Between October 2014 and December 2018 the Eurosystem conducted net purchases of securities under one or more of the asset purchase programmes. During the net asset purchase phase, monthly purchase pace averaged:
€60 billion from March 2015 to March 2016
€80 billion from April 2016 to March 2017
€60 billion from April 2017 to December 2017
€30 billion from January 2018 to September 2018
€15 billion from October 2018 to December 2018
Between January 2019 and October 2019, the Eurosystem fully reinvested the principal payments from maturing securities held in the APP portfolios. The Governing Council aimed to maintain the size of its cumulative net purchases under each constituent programme of the APP at their respective levels as at the end of December 2018.
On 12 September 2019 the ECB Governing Council decided that "net purchases will be restarted under the Governing Council's asset purchase programme (APP) at a monthly pace of €20 billion as from 1 November 2019. The Governing Council expects them to run for as long as necessary to reinforce the accommodative impact of its policy rates, and to end shortly before it starts raising the key ECB interest rates." On 12 March 2020 the ECB Governing Council decided to add "a temporary envelope of additional net asset purchases of €120 billion" until the end of 2020.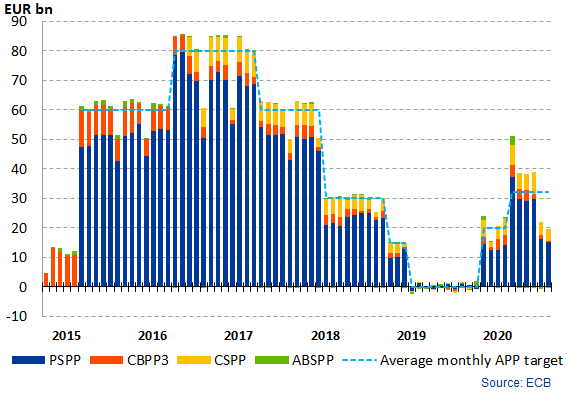 Note: The average monthly APP targets were first set by the ECB Governing Council at the beginning of the PSPP in March 2015. The additional envelope of EUR 120 bn decided by the Governing Council on 12 March 2020 has been linearized for illustration in this chart, while it will be implemented in full according to the established principles with additional flexibility.
In addition, reinvestments of the principal payments from maturing securities purchased under the APP will continue, in full, for an extended period of time past the date on which the Governing Council begins to raise the key ECB interest rates, and in any case for as long as necessary to maintain favourable liquidity conditions and an ample degree of monetary accommodation.
The table presents the Eurosystem holdings at the end of the month and a breakdown in the change of Eurosystem holdings.
Eurosystem holdings under the asset purchase programme
Changes of holdings (previous month)
ABSPP
CBPP3
CSPP
PSPP
APP
Holdings* in May 2020
30,872
281,481
212,505
2,218,218
2,743,076
Monthly net purchases
-231
1,731
7,515
29,779
38,794
Quarter-end amortisation adjustment and redemptions of coupon STRIPS
-7
-446
-302
-5,929
-6,684
Holdings* in June 2020
30,634
282,766
219,719
2,242,068
2,775,187
*At amortised cost, in EUR millions, at month-end.
Figures may not add up due to rounding. Figures are preliminary and may be subject to revision.
Amortisation adjustment are made at the end of each quarter. The amortisation emerges from an accounting principle that implies that securities purchased at prices below face value have to be revalued upwards over time towards maturity, and revalued downwards over time, if purchased at prices above face value. STRIPS are accounted for at the end of each month (see Question 1.4 in the Q&A).
History of cumulative purchase breakdowns under the APP
Weekly changes are reported below and in the Eurosystem weekly financial statement. Full historical data are available in the Statistics section under Data on daily liquidity conditions.
APP cumulative net purchases, by programme
The stock of Eurosystem APP bonds stood at €2899 billion at the end of June 2020. The cumulative net purchases are illustrated below.
APP redemptions
The Eurosystem adheres to the principle of market neutrality via smooth and flexible implementation. To this end, the Governing Council decided to distribute the reinvestment of principal redemptions through time to allow for a regular and balanced market presence.
The table presents estimated monthly redemptions for the next 12 months.
Expected monthly redemption amounts for the APP over a rolling 12-month horizon (in EUR millions)
month
ABSPP
CBPP3
CSPP
PSPP
APP
Jun 20
671
2,916
1,271
13,082
17,940
Jul 20
907
3,601
1,156
28,689
34,353
Aug 20
491
1,621
74
423
2,609
Sep 20
671
3,447
861
18,930
23,909
Oct 20
992
6,568
875
23,629
32,064
Nov 20
688
5,244
2,431
22,509
30,872
Dec 20
642
302
701
8,871
10,516
Jan 21
1,436
5,049
2,589
15,064
24,138
Feb 21
465
1,945
846
10,268
13,524
Mar 21
778
2,758
2,727
12,679
18,942
Apr 21
571
4,040
1,085
28,417
34,113
May 21
419
2,806
1,144
14,353
18,722
Jun 21
1,315
316
773
19,519
21,923
*Actual redemption, based on month end data.
ECB estimates in italics. Figures may not add up due to rounding. Figures are preliminary and may be subject to revision.
Note: Realised redemptions may differ from estimated redemptions.
Corporate sector purchase programme
Public sector purchase programme
Asset-backed securities purchase programme
Covered bond purchase programme 3
Terminated programmes