TOP FLOOR - Make Your Way Up!
This game is no longer up to date and will soon be removed from our website. The game will not be replaced in the near future.
This game uses Adobe Flash technology. For performance and security reasons, modern browsers either discourage the use of, or block completely, the Flash Player plug-in.
If you still want to use Flash, you need to give explicit permission to your browser to run it.
If you allow your browser to run Flash, you do so at your own risk. The ECB is not responsible for any consequences resulting from a security attack by third parties.
Please note that some of the most recent browsers will not run Flash at all.
Will you make it to the Top Floor?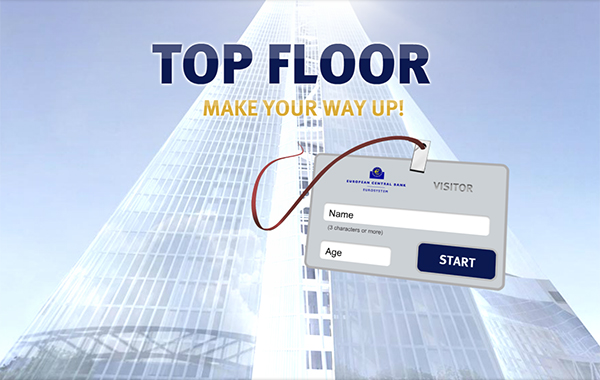 | | |
| --- | --- |
| Location: | ECB's Headquarters, Frankfurt, Germany |
| Your Mission: | Collect the 7 briefing documents for the Governing Council on the Top Floor |
| Response time: | Intelligently fast! |
| Mission support: | A phone call away |
Go!